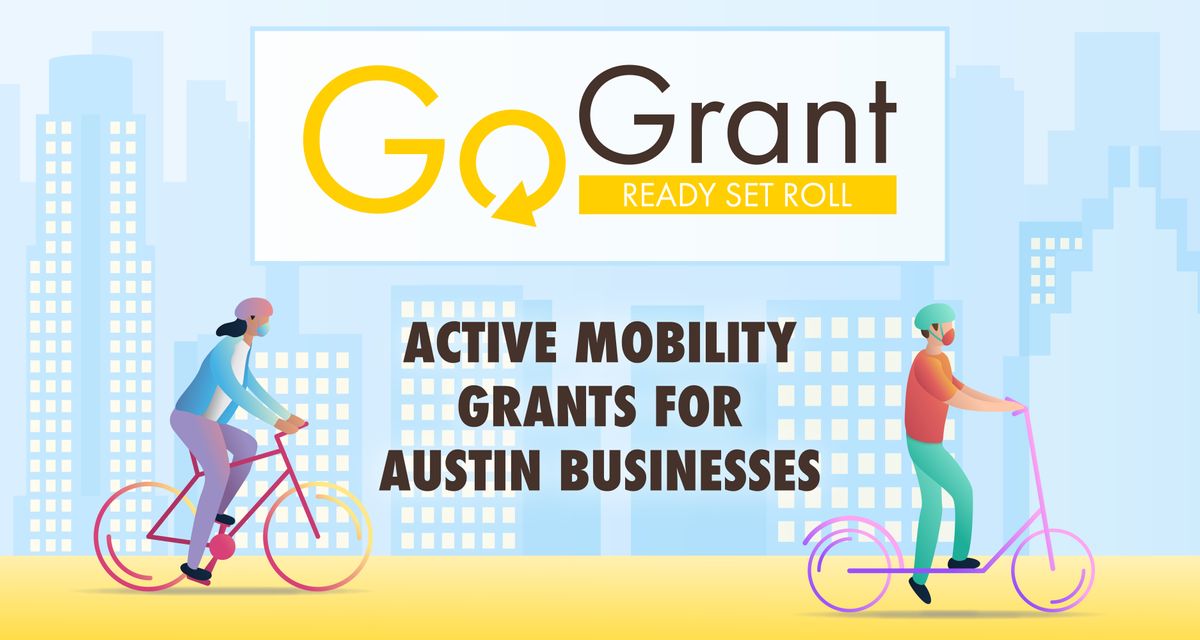 The GoGrant program will provide financial assistance of up to $5,000 to small, Austin-based businesses to support active and micro-mobility options.
Businesses that add features like bike parking attract more customers and gain a competitive advantage.
Support your customers and employees with options like:
· Bike racks
· Memberships to shared mobility like MetroBike, Bird, or Revel
· Bike repair stations
· Bike storage or lockers for employees
Applications must be submitted by Monday, November 30 at 6pm.
To be eligible for funding, projects must focus on active transportation. That includes walking, biking, and micro-mobility (scooters and mopeds). For project examples, visit the resources page. That list is meant to inspire ideas and is not comprehensive - if you have an idea that's not mentioned, tell us about it in your proposal!
A scoring committee made up of community members and Movability stakeholders will review all applications the first week of December 2020. Movability expects to notify applicants of the results shortly after. Payout to GoGrant recipients will begin in January 2020.
Funding may be distributed to each project differently depending on the project proposal. Some projects could be reimbursement-based while others may have direct payments sent to vendors to pay for goods on behalf of the GoGrant recipient. Movability will work with each potential recipient to determine an appropriate funding distribution method after recipients are selected.
Program Rules
Applicants must have fewer than 51 employees OR Under $10 million in annual revenue
Businesses or organizations applying must be headquartered in Austin, TX
Applicants must submit an application which will be evaluated and scored
Applicants must be able to communicate financial difficulties experienced due to COVID-19
If awarded assistance funding, applicants must become a Movability member
If applicable, applicants must be able to have an agreement in place with the property manager to install infrastructure
All projects that receive funding must be completed by the end of September, 2021
Frequently Asked Questions
1. Who is eligible to apply? 
Applicants must be based in Austin and have either fewer than 51 full time employees OR less than $10 million in annual revenue, and must be able to communicate financial difficulties due to COVID-19.
2. Do I need to be a member of Movability to apply?
Your business or organization does not need to be an existing member, but must be willing to become a member upon receiving assistance funds. The cost of membership can be deducted from the awarded funds. Annual membership for small businesses is $150, and for 501(c)(3) nonprofits the membership fee may be covered by our NPO Go! program.
3. What if I have a mobility need that's not eligible for funding?
4. Can nonprofit organizations apply?
5. If my business or organization receives funding, what reporting requirements must I meet?
To receive funding, recipients must agree to measure the impact of the project. This will typically require a measurement of pre-grant activities and a measurement of post-grant activities. E.G. If a business wants funds to discount dockless scooter trips, they should report on the number of scooter trips before the discounts were provided and then after the funds are spent, the number of scooter trips that were taken with the discount.
Movability will work with each business or organization to determine the best reporting metrics for each project.
6. Can I pay staff with GoGrant funds to manage our project?
No, funds may only be used to pay for material goods or the installation of those goods. Contact us if you have questions regarding a specific project.
7. Can I work with another business to submit a joint application? And do we get more funding if we submit a joint application?
Yes, you can apply a with joint application. Depending on the project type you may be eligible for additional funds over the $5,000 grant cap. Contact us if you are considering a joint application.
8. Do I need to submit a match to be awarded funding?
9. Can I be awarded multiple grants?
A business or organization may only receive funding for one project per grant cycle. However, if you have several different projects in mind, you may submit a separate application for each project.
10. Can funds be used to pay for the installation of project goods?
Definitely! As long as the project infrastructure meets the outlined requirements of the program, you may use funding toward the installation of goods like bike racks, bike repair stations, and storage.
11. My business has over 50 employees but some are part time, can I still apply?
If your business has fewer than 50 full time equivalent employees you may still be eligible to apply.