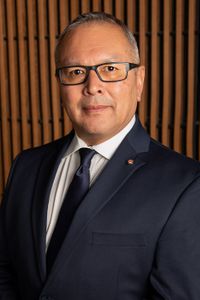 Richard Mendoza
Richard Mendoza joined the City of Austin in January 2017 as the Public Works Director and is responsible for building and maintaining our city's roadways, bridges, sidewalks, and urban trails; designing and delivering our capital and neighborhood partnering improvement projects; and providing safe routes to school for our children. Leading a dedicated workforce of 664 employees, he oversees an annual operating budget of $140 million and a portfolio of $1.4 billion in capital improvement projects. Under Mendoza's leadership the Public Works Department has accomplished the $24 million annual street preservation and maintenance service plan, major pavement repairs to the Guadalupe Street corridor, critical low water crossing bridge replacements, completion of the new Central Library, Waller Creek Drainage Tunnel, and New Airport Terminal Expansion Projects, and completion of the first early out projects included in the 2016, 2018, and 2020 Mobility Bond Programs.
With the departure of the former transportation director in June 2022, Richard was asked to step in as the Interim Director for the Transportation Department pending a search for a replacement. This new role leads a team of 434 FTEs with an annual operating budget of $86 million. The transportation department includes transportation development services, office of the traffic engineer, SMART mobility, transportation engineering and project delivery, and business operations. The department also works closely with the Corridor Program Office and the Project Connect Office
Before coming to Austin, Mendoza served as the Commissioner of Public Works for the City of Atlanta, Georgia from 2010 to 2017 where he oversaw the completion of numerous transportation projects such as the Atlanta Streetcar, the Edgewood Avenue Street Bridge, and the MLK Jr. Drive complete streets. His career also includes serving as the Assistant Director of Public Works for the City of San Antonio, Texas, America's seventh largest city, Public Works Director for the City of San Marcos, Texas, and Production Manager for the San Antonio Water System. A registered Professional Civil Engineer, Mendoza earned a Bachelor of Science degree in Natural Gas Engineering from Texas A&I University-Kingsville and a Master of Public Administration from Texas State University-San Marcos. He is also a certified Lean Six Sigma Green Belt from the University of Georgia.
Mendoza is a member of the American Public Works Association, served on the board of the National Association of City Transportation Officials from 2012 to 2015, and a 2012 graduate of the Atlanta Regional Commission Executive Leadership Institute. Richard and his wife Martha have 5 children, 8 grandchildren, and one great-granddaughter, all in Texas, with whom they enjoy family bar-b-ques and recreational road trips.