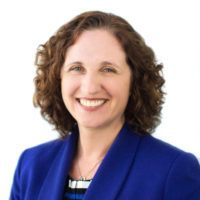 Sandy Hentges Guzman
Sandy Hentges Guzman is the Legislative Director for Texas State Senator Kirk Watson. She has worked for Senator Watson since 2008. As Legislative Director, Sandy works to ensure the senator's legislation is moving through the legislative process smoothly and strategizes with staff and the senator to address obstacles.
Initially focused solely on transportation policy for the senator, Sandy has also served as point on the senator's 10 Goals in 10 Years since the initiative began in 2011. This led to the 2012 election to increase the Central Health tax rate to support a redesign of the community healthcare safety net system, the creation of the UT Dell Medical School and engage Seton's commitment to build a new teaching hospital, the Dell Seton Medical Center at The University of Texas, Austin. The 10 in 10 effort is ongoing.
Sandy first moved to Austin in 2000. Later that year, she joined the campaign for light rail as Deputy Campaign Director. Though the effort was unsuccessful, it provided Sandy the opportunity to get to know Austin, its elected officials and business and community leaders. It was also the beginning of her work on local and regional transportation policy. She subsequently joined the Greater Austin Chamber of Commerce staff where she worked for eight years on local, state and federal policy issues, with a heavy emphasis on transportation issues/policy, on behalf of the business community as Senior Vice President for Public Policy.