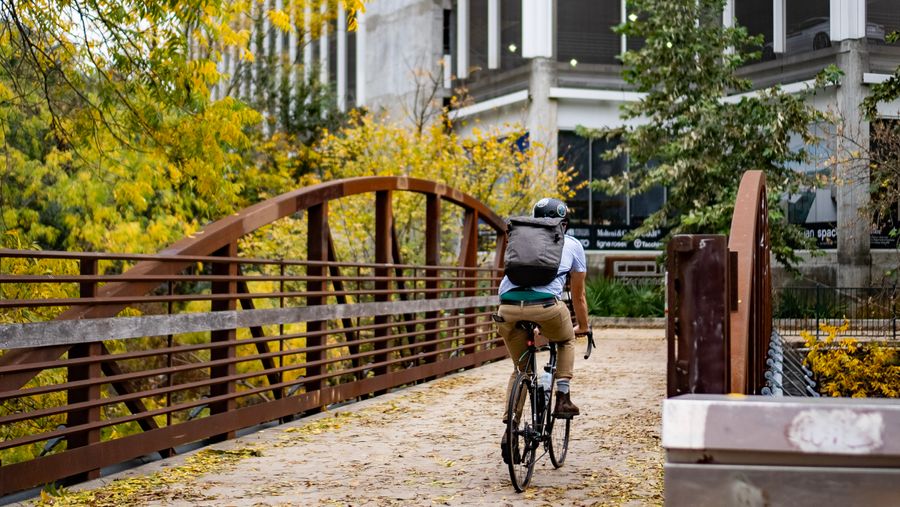 Did you know that personal vehicles are the biggest source of ozone-forming emissions in Central Texas?
Ozone Action Season has started, and driving less is an important way to take care of our air. Movability and the Capital Area Council of Governments CAPCOG are partnering to help Central Texans understand the connection between transportation modes and pollutants in our air. We will be rewarding the commuters who rack up the biggest CO2 savings with their logged trips!
From April through June, we will send CO2 report cards to active users in the Get There Central Texas network. Commuters with the biggest carbon reductions will win monthly prizes.
Sign up to start logging trips!
Check out the resources below to help you get there with clean air this spring!
Transit Resources
CapMetro offers multiple ways to get around Austin.
Use the Trip Planner to plan your route downtown, look for specific route information, and check for detours and stop closures.
Download the CapMetro App to buy your pass, stay up to date on where your bus is, and do more on the go.
If driving, park your car at a Park & Ride, hop on a train or bus and let CapMetro worry about traffic.
Try CapMetro's New Courtesy Stop Program anytime you are on the bus after 9:00 pm for all MetroBus and Metrorapid routes and select safe, well-lit spots to exit the bus closer to your destination.
Parking Resources
Park ATX can make on-street parking easy and convenient if you drive downtown. Use the App to pay, extend, and manage your parking session remotely with a few taps. Use validation codes FREE15ATX1 and FREE15ATX2 to park for free for 15-minute in any paid on-street parking space. Codes are valid for separate sessions once every 24 hours. >> Find On-Street Parking Downtown
The Affordable Parking Program is a City of Austin and Downtown Austin Alliance initiative aimed at reducing economic barriers for Austin service and entertainment industry employees. Park at affordable monthly rates as early as 3 p.m., stay as late as 7 a.m. during the week, and park up to 24 hours during the weekend, depending on the garage. Parking at participating garages is available on a first-come, first-served basis. >> Learn more
Bicycle Resources
Austin's All Ages All Abilities Bicycle Network keeps growing! Click here to see an updated bike map.
You can also use MetroBike to get around the city or use it as a last-mile solution to take you to and from transit or get to a meeting. Learn more here.
Carpool Resources
Carpooling is a great way to save money! The Get There Central Texas network helps you connect with a carpool or vanpool and also rewards you when you log your trips.
Get There Central Texas users are also eligible for the Emergency Ride Home program, in case an unexpected event means you need a ride quickly. Learn more about Get There Central Texas here.
Disclaimer
The tools and information listed are third-party products and services that are helpful in getting to and around Central Texas and are not administered by Movability.