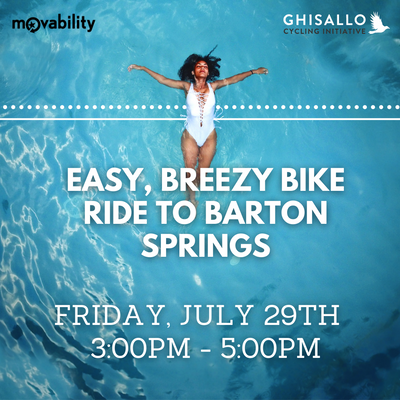 Redline Ride to Barton Springs
July 29, 2022 3pm
You're invited to join Movability and Ghisallo Cycling Initiative for a bike ride from the Downtown Redline Station to Barton Springs pool on July 29 at 3:00pm.
No need to bring a bike - MetroBike will provide day passes so you can use an e-bike for an even smoother ride! We will meet at the Downtown Redline Station (209 E 4th St, Austin, TX 78701) for a brief introduction and Q & A, before biking to Barton Springs via the Lance Armstrong Bikeway. Movability will provide entrance passes to Barton Springs. All you need to bring is your bathing suit, towel, and sunscreen.
This ride is meant to help you discover local bike infrastructure and feel more confident biking in a busy urban environment. This is a great team building event and both individuals and employee groups are welcome! Questions? Contact Alex Vogt.