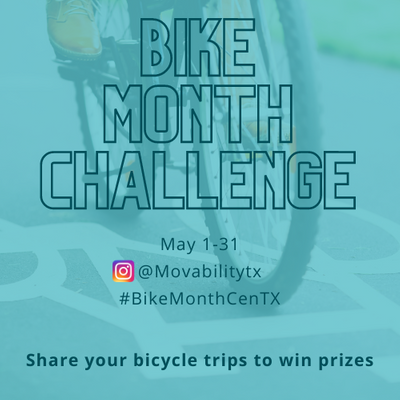 Bike Month Instagram Challenge
May is Bike Month! Whether you're a seasoned cyclist or a complete beginner, there are lots of opportunities to get around on a bike. And we want to reward you for your bike trips!
During the month of May, post photos of yourself with the bike you're riding in any Central Texas location, tag Movability on Instagram (@movabilitytx), and use #BikeMonthCenTX to be entered into weekly prize drawings for $50 Amazon gift cards.
Follow Movability on Instagram to get updates leading up to and during May about the Bike Month Challenge, community bike rides, Bike Month events, and Bike to Work Day happenings.
Want a chance to win even more prizes during Bike Month? Log your bike trips on Get There Central Texas to earn points toward prizes. Here's how it works:
· Log into Get There
· Log each bike trip you take to move up the leaderboard. Any bike ride counts: a commute, a group ride, running errands, or just a spin around the neighborhood. Electric bikes, bike share bicycles, and rental bikes count too!
· There will be a mid-month prize awarded based on points earned ($25 gift card) and two end-of-month awards for a grand prize ($50 gift card) and a runner up ($25 gift card) based on the number of points. Points will be awarded based on the number of bicycle trips logged, no matter the distance. The more trips you log, the more points you earn!
--------------------------------------------------------------------------------------------------------------------------------------------------------
The Fine Print:
INSTAGRAM CONTEST RULES
Participants are invited to compete in the Bike Month contest by posting photos with their bicycle around Central Texas to Instagram during the month of May, 2022. Photos are included as participating in the Bike Month Challenge only if a post includes a bicycle or scooter in the picture, the hashtag '#BikeMonthCenTX', and the tag '@movabilitytx'. There will be five (5) winners selected.
Contestants must avoid taking selfies while operating a bicycle, and any pictures taken while the photographer is driving will not be eligible. Prize drawings will take place on May 6, 13, 20, 27, and June 1. Participants are eligible to win one (1) selfie prize each week.
GENERAL ELIGIBILITY
To be eligible for the prize drawing, all social media posts must be posted with the tag '@movabilitytx' and the hashtag '#BikeMonthCenTX' and posted to Instagram.
The Bike Month Challenge is open to any individual 18 years of age or older who lives or commutes in Bastrop, Burnet, Caldwell, Hays, Travis, or Williamson counties. Contest is not open to Movability employees or board members and their immediate family members.
CLAIMING A PRIZE
The prize may be claimed by emailing info@movabilitytx.org or calling (737) 204-7644. Prizes must be claimed within seven (7) business days of the awarding. If the prize goes unclaimed after 7 business days, it will be forfeited by the original winner and a new winner will be drawn using the same entrants as the original prize drawing.
ACKNOWLEDGMENT
By participating in the Bike Month Challenge, individuals agree to the use of their names, photos posted for the Challenge, and likenesses and/or recognition information for promotional purposes in any medium without additional compensation or notice to winners, to the extent permitted by law.
By participating in the Bike Month Instagram Challenge, the participant thereby allows organizers to post the picture on their social media pages, webpages, and any print marketing materials.
NON-DISCRIMINATION CLAUSE
The Bike Month Instagram Challenge does not discriminate against any individual or participant on the basis of race, color, sex, religion, national origin, handicap, and sexual orientation and/or any other factor as specified in Title VI of the Civil Rights Act of 1964, Rehabilitation Act of 1973, and subsequent amendments. The Bike Month Instagram Challenge will comply with all federal and state laws regarding such.