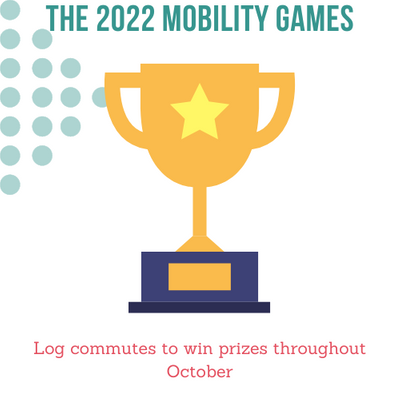 2022 Mobility Games
October 1, 2022 - October 31, 2022
The Mobility Games are back! During the month of October commuters will be entered for weekly prize drawings and work their way up the leaderboard for one of two grand prizes by logging commutes on the Get There Central Texas platform.
>>> Not signed up on the Get There Central Texas network? If your company isn't a member (click here to check), you can join as an individual for free here. Make sure you select the "Get There Central Texas by Movability" network when you register.<<<
Teleworking, carpooling, vanpooling, riding a shuttle, taking transit, walking, biking, using bike share or scooters - or combining modes - all count! When you log your commutes in Get There Central Texas during the month of October, you're entered to win both random weekly drawings among active trip loggers and you climb the leaderboard toward one of two grand prizes.
There are two grand prizes that will go to:
The individual who has logged the most non-drive-alone trips at the end of the month (Prize: $250 gift card)
The subnetwork (must be a Movability member to have a subnetwork) that has collectively logged the most non-drive-alone trips at the end of the month (Prize: a $250 donation to a local charity of your team's choice)
To be eligible for the random weekly prize drawings ($50 gift card), you must have logged at least three commutes in the past week.
City of Austin and Travis County Employees Please Note: City and County staff may not win prizes, as this constitutes a "game of chance". Participants with City and County emails will be disqualified from prize draws.
FAQs:
How do I join the challenge? As long as you're on the Get There Central Texas network, any eligible (non-drive-alone) commute that you log during the month of October will automatically be counted toward the challenge.
Do I have to purchase anything to participate? Individual commuters just need to be on the Get There Central Texas network, which is free to join. There is no purchase of any kind necessary to join the challenge as an individual. Organizations that want to compete for the team prize must be Movability members in order to have a subnetwork on the Get There platform.
My workplace wants to create a subnetwork on Get There Central Texas. How do we do that? Make sure you're a Movability member. If you have questions about becoming a member contact us. Already a member? Fill out this form and we'll create your subnetwork for you!
What if I work remotely? Can I still participate? Yes! Remote work means one less vehicle on the roads, and is an eligible mode.
The last time I participated in the Mobility Games trips like group bike rides and family walks counted toward the leaderboard. Can I log fun trips like those this year? This year the Mobility Challenge will only award points for commutes. The last time this event took place the pandemic was still at its peak and many workplaces were remote-only. This year more people are back to a regular schedule and our rush hour traffic is back, so the challenge is aimed at reinforcing sustainable commute habits.
I drove alone to a park and ride and then took transit the rest of my commute. Does that count as a non-drive-alone commute? Yes! Park and rides are a great way to make transit realistic for more people. Log your trip as a transit train or transit bus trip and climb that leaderboard.
Do I have to be a Movability member to participate and win? Individual commuters do not need to join Movability, but they do need to be signed up to use the free Get There Central Texas platform. Employers that wish to have a subnetwork in Get There Central Texas for their employees do need to become members.
How will I know if I'm a winner? We will contact you via the email you used to sign up for the Mobility Games.
Do I have to log the same type of commute trip? No, any commute that's not a drive-alone commute is eligible. For instance, you can take the bus to work and carpool home and be able to log two trips for that day.
What if I have an emergency but I don't have my car because I used another mode to get to work? We've got you covered! Anyone who is actively logging trips in the Get There Central Texas platform is eligible for emergency rides home.