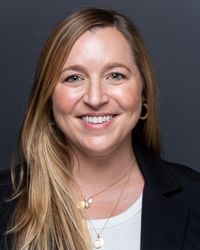 Samantha Alexander
As Executive Vice President, Chief Experience and Engagement Officer for CapMetro, Samantha leads the agency's strategic initiatives and team members in Customer Service, Community Engagement, Communications, Marketing and Client/Business Development. These teams are unified in their effort to provide valuable experiences and meaningful engagements with our community, customers, partners and team members.
Samantha joined CapMetro in 2019 as its Director of Brand Communications and served as the Senior Director of Public Affairs and Engagement, leading the agency's Community Engagement and Communications teams, prior to her current role.
Samantha began her career in public service at the City of Austin in 2010 in the Public Information Offices for City Hall and the Austin Transportation Department. Before joining CapMetro, she led large-scale communications efforts for Austin ISD, including the district's successful 2017 bond, as the Assistant Director of Public Affairs and Operations.
She is a volunteer for Seedling Mentor Program and an alumnus of the University of Missouri Journalism School and Texas State, where she earned her Master of Public Administration.