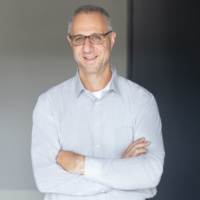 Joseph Cantalupo, Board Chair
Joseph Cantalupo is a senior vice president with K Friese + Associates, an Austin based civil engineering consulting firm that provides services solely to public sector clients with special emphasis on water, wastewater, transportation and drainage planning, design, and management projects.
Joe is a certified planner with more than 31 years of experience in statewide, regional and community transportation planning. Joe is a former Executive Director of the Capital Area Metropolitan Planning Organization in Austin where he led the development of the 2035 metropolitan transportation plan—the first CAMPO plan to integrate transportation funding to local land use and development plans. Joe has also worked for a national planning and engineering consulting firm and served as the Assistant Director of Planning with the Delaware Department of Transportation where he was responsible for statewide and regional planning, and his work there also included integrating alternative modes of travel into all DelDOT projects and programs.
In addition to being a member of the Movability Austin Board of Directors, Joe is a member of the American Planning Association and the American Institute of Certified Planners.